Blühendes Österreich
Annual Report 2015-2017 Blühendes Österreich
Project request
Blühendes Österreich – REWE International gemeinnützige Privatstiftung Industriezentrum NÖ-Süd
Publisher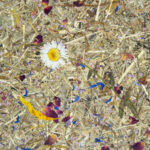 Wallpaper, wood workers, Self-adhesive, Acoustics
Application
Blühendes Österreich
At the end of November the annual report of the "Blühendes Österreich" (blooming Austria) foundation was awarded the Golden Pixel Award in category "Ecological & Environmentally Friendly" as best print product of 2018.
This award is one of the most prestigious awards in the Austrian printing and media industry. Concept and design for this outstanding design came from the in-house agency Marian.
Awards
All-natural appearance
The award was received with rake and back carrier. The winners' radiant faces speak for themselves.
Congratulations to the team, we are glad about the cover design with our natural surface ALMWIESN!
© Golden Pixel Award/Franz Reiterer
Further award
In June 2019 the brochure was honored with a further Austrian award:
The Golden Hahn for exemplary advertisement