Farm holidays at Niedersteinhof
Farm holidays at Niedersteinhof
Project request
St. Leonhard im Passeier/Italy
Location
Self-adhesive, Wallpaper, wood workers, Flooring, Acoustics
Application
HAYlights
True to the sustainable farm concept, great importance was placed on natural and healthy materials for the interior of the holiday apartments. The result are comfortable rooms in an Alpine atmosphere.
With great attention to detail, the flats were furnished with high-quality hay wallpaper and hay floors from the farm's own mountain meadows. Whether decorated with gold or dried meadow flowers – the organoid natural surfaces are a real eye-catcher.
wonderful views
In the bathrooms, the glass of the shower and the door were covered with the natural surface WILDSPITZE medium from the outside. These are not only a real eye-catcher, but also provide pleasant privacy.
silver linings
The Niedersteinhof carpenters made unique hanging and floor lamps from the WILDSPITZE MORGENTAU wallpaper with zirconia stones. The beautiful lamps are truly unique.
WILDSPITZE MORGENTAU: Almheu with Zirkonia stones
from the floor to the ceiling
In the natural holiday apartments, the mountain meadow hay of the family Moosmair from about 2,000 metres above sea level becomes a special hay cork floor.
Both outside and inside you can smell and feel the South Tyrolean alpine hay. All the skirting boards and the panelling of the curtain rails are also in hay style.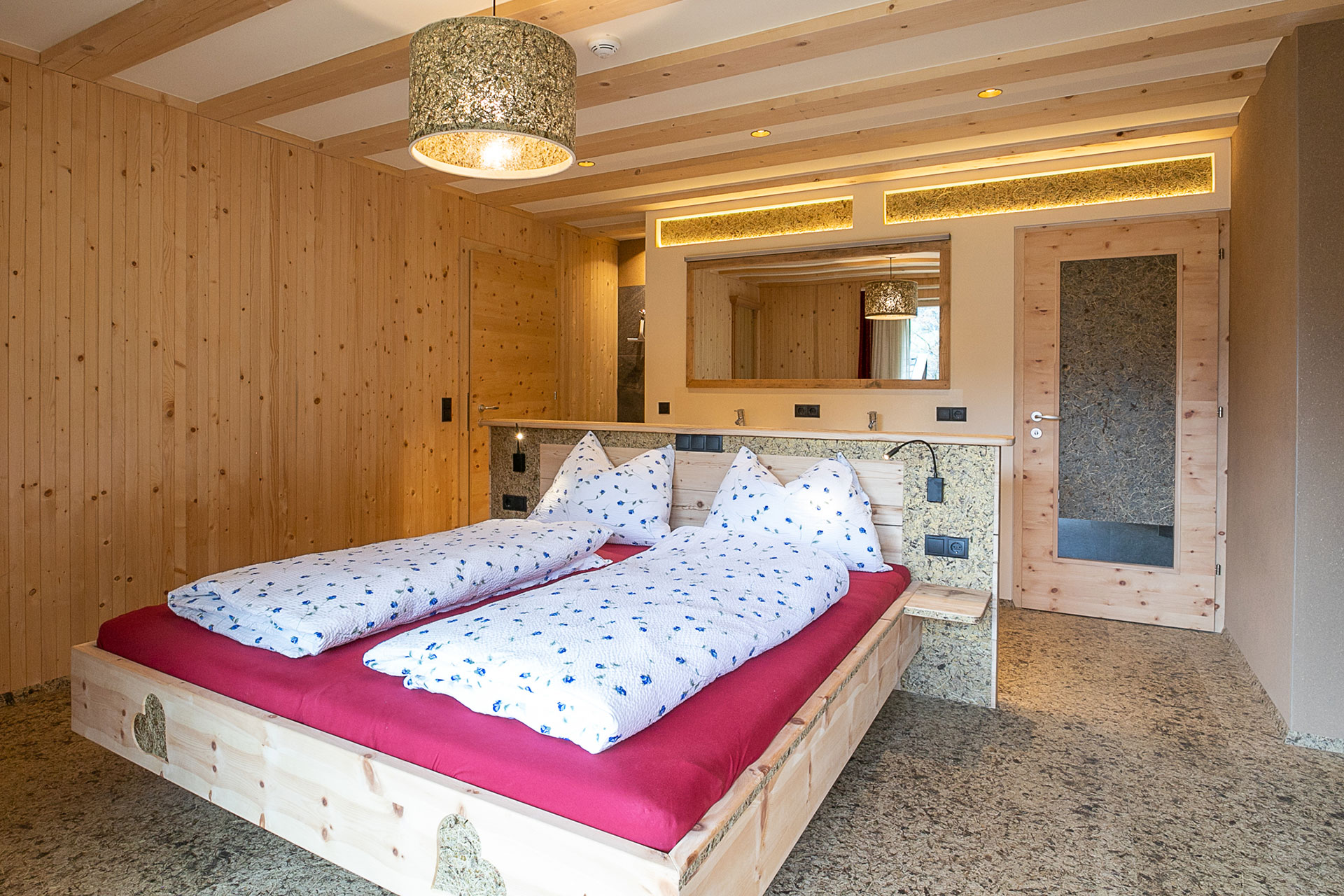 Echter Heuboden mit Gräsern aus der eigenen Landwirtschaft
organic farm
When designing the rooms, it was very important to the hosts to use the available resources and to many natural materials from the surroundings. With unique highlights from their own mountain meadow hay – "HAYlights" – a piece of paradise is conjured up in the rooms.
See for yourself the wonderful view and the warmth of the hosts at Niedersteinhof. With fragrance of hay and wood in your nose and the gentle sound of cowbells in your ears. This is what a farm holiday at Niedersteinhof feels like.