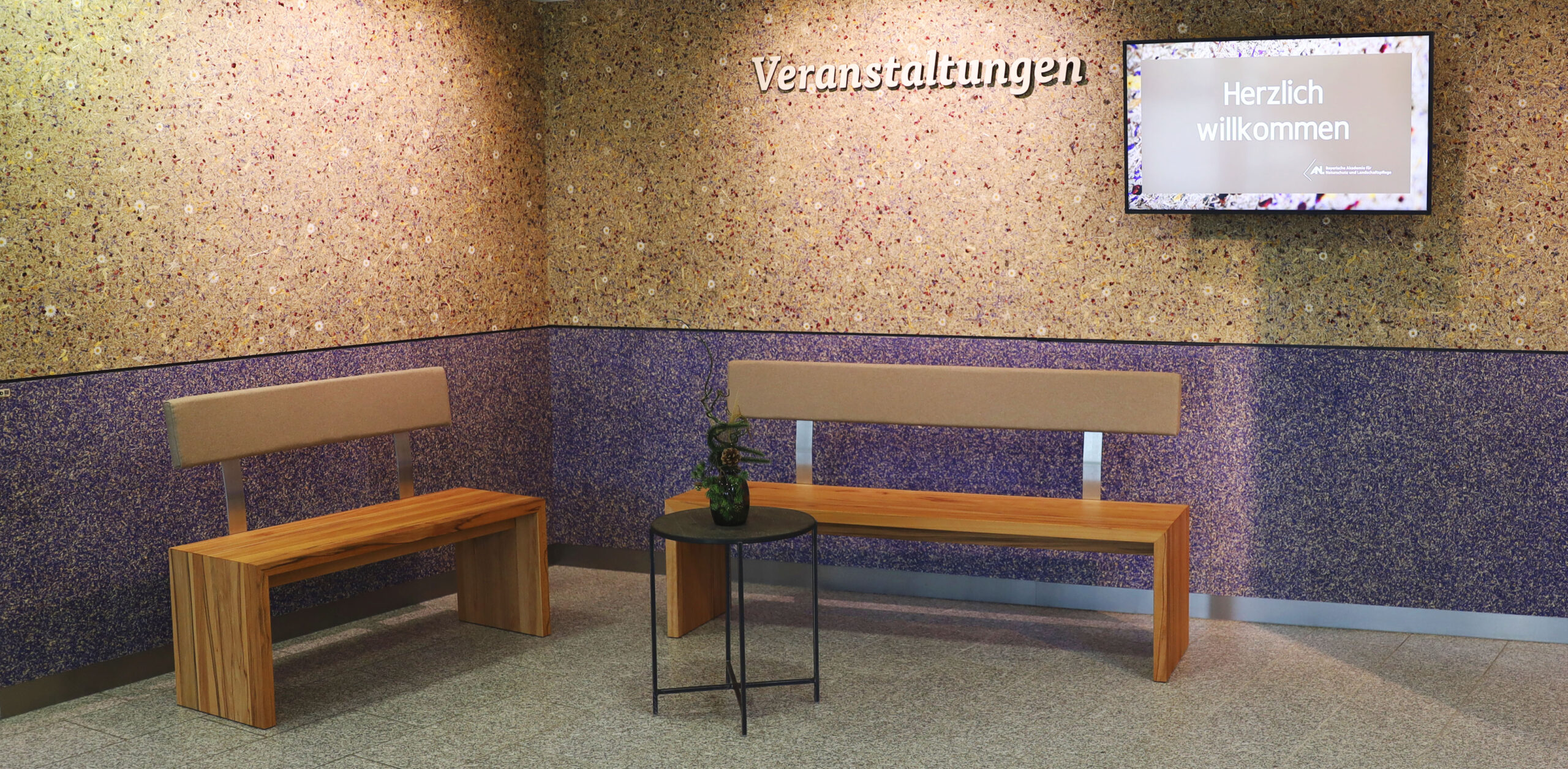 Blaue Kornblumen auf akustischem Wandpaneel
Die prachtvolle und duftende BERGWIESN begrüßt die Gäste bei Veranstaltung
Academy for Nature Conservation and Landscape Management
Foyer of the Academy for Nature Conservation and Landscape Management
Project request
Nicole Höhna & Melanie Schuböck
Photos
Wallpaper, wood workers, Self-adhesive
Application
Nature protection academy
Visitors should be able to perceive the vision and the concept with all their senses as soon as they enter the ANL. Active environmental education requires a holistic presentation and a well-thought-out interior design.
NICOLE HÖHNA

Bavarian Academy for Nature Conservation and Landscape Management (ANL)

"During the concept phase, I did a little research on Pinterest about mood images for our foyer. When I came across Organoid, I knew that this was exactly what we wanted. We couldn't have found more thematically fitting surfaces for the walls in our foyer. Our visitors also take a closer look and are interested to see which plants have been used."
New perspectives
In the course of the renovation of the foyer 2021, the natural surfaces KORNBLUAMA BLAU on flax fleece and BERGWIESN with real Edelweiss flowers were processed on acoustic wall panels to create an even more pleasant room atmosphere.
Important factors for the selection of the surfaces were both appearance and design as well as the origin of the raw materials.
Fresh & Playful
Lighting and lettering accentuate the comfortable foyer. In combination with the wall panels, a harmonious lounge seating area and an inviting drinks area are created. The foyer is a real eye-catcher of fresh blue and playful flower meadow – perfect for the Academy for Nature Conservation and Landscape Management.