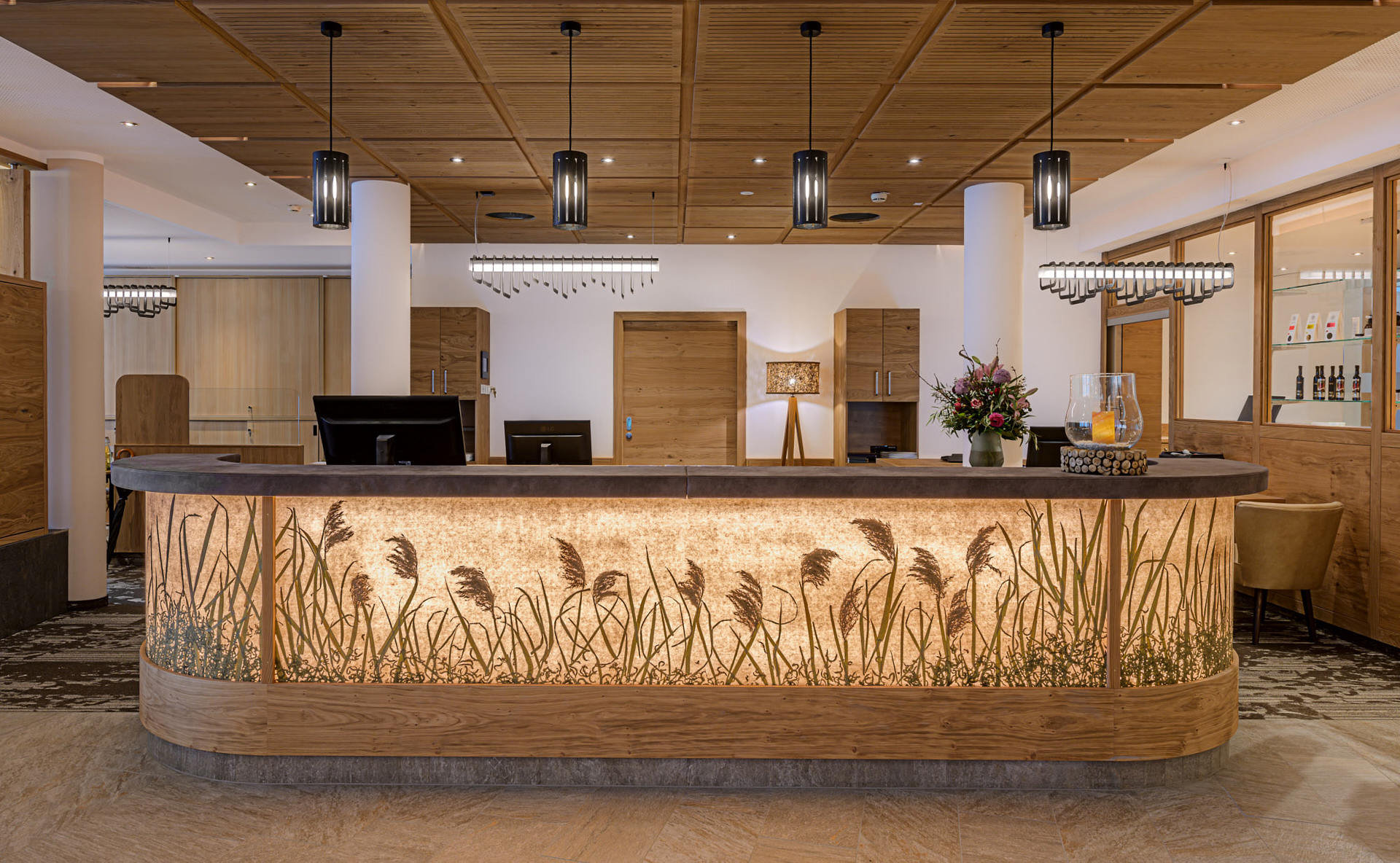 Für die Theke wurde das Schilf direkt vom Haldensee auf Flachsvlies verarbeitet.
haldensee - Naturerlebnis und Wellnesshotel
haldensee - Naturerlebnis und Wellnesshotel
Project request
Nesselwängle/Österreich
Location
haldensee
Located in the wonderful landscape of the Tyrolean Tannheim valley in Austria the  haldensee**** offers its guests natural exeriences all year long.
Hansjörg Franz Krißmer

Atelier Krissmer & Partner GmbH

Der Einsatz von Organoid-Naturmaterialien trägt dazu bei, Hotelprojekte, welche auf Naturbezug ausgerichtet sind, authentischer, nachhaltiger und stimmiger einzurichten und das Genusserlebnis von Räumen mit allen Sinnen zu ermöglichen. Organoid-Produkte sind bei gezieltem Einsatz identitätsstiftend und tragen zum Gesamterfolg eines Projektes bei und machen die Natur im Außen als auch im Innen zum Gastgeber.
Reception
The front desk offers a speciality: the shore of the nearby lake with its reed and grass is applied on the reception desk. This special surface was created upon the draft of the owner and realized by our production staff. This elaborate handwork is really amazing!
For sure the raw material is from the Haldensee
Restaurant & Bar
Combining natural colors is always a good choice – also here in the bar area: green, grey and at the bar counter our natural surface BAMBOART.
Acoustic slot absorber on the restaurant ceiling
Wellness
The entire hotel is equipped with various natural materials to offer a  pleasant stay.
Further more the natural surface ALMWIESN can be found at the reception desk of the wellness area. The delicate scent of alpine-hay and the nice surface underlines the relaxing well-being atmosphere.