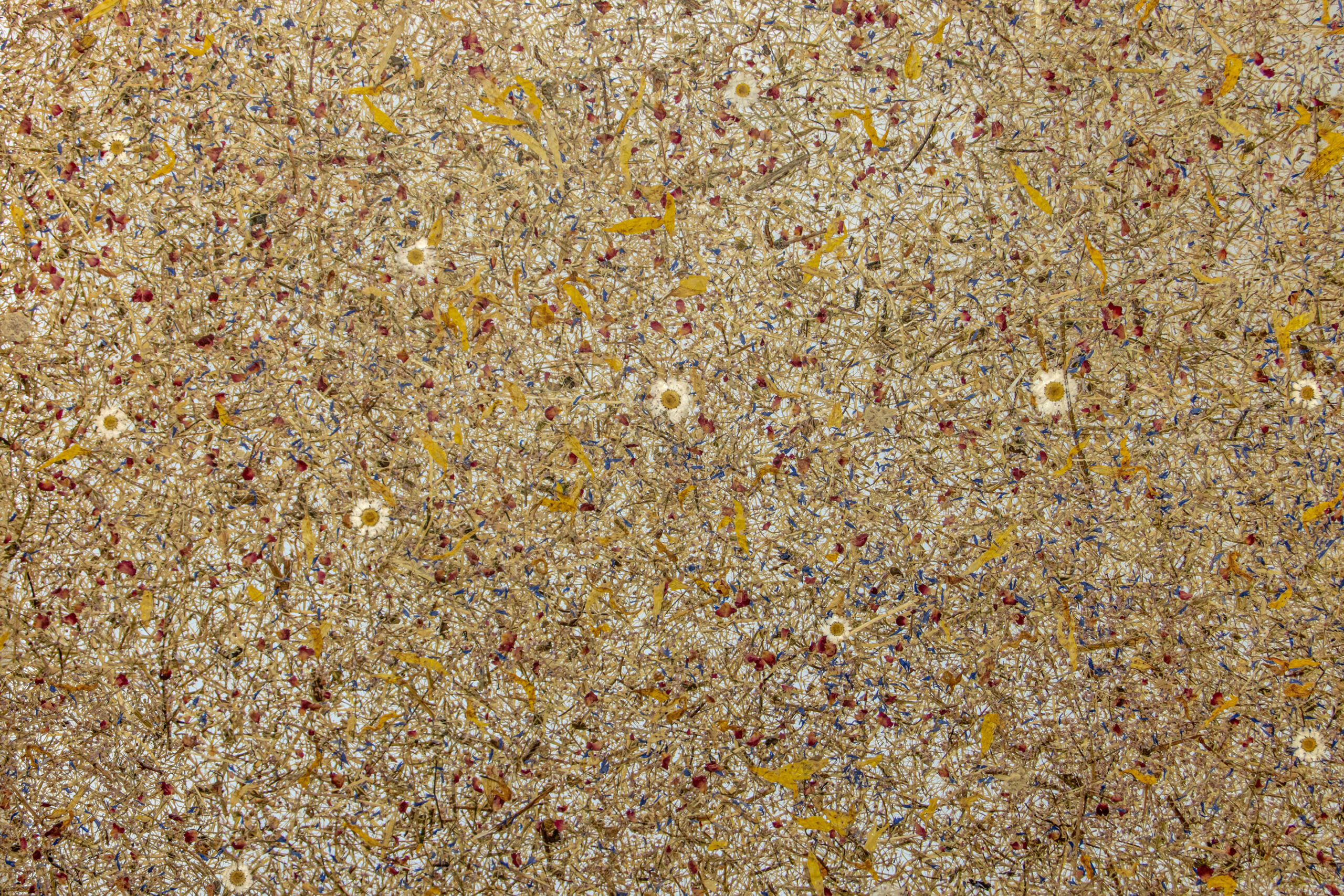 Article number:
Approx. 6 edelweiss/m², approx. 20 marguerites/m² and colourful flower petals on regional, hand-cut Alpine hay from the Tyrolean Alps in medium coverage on a translucent self-adhesive backing – creates a beautiful effect when put in front of a light source or on glass.
Choose an application area:
Added value
Experience the rich colours of blooming alpine meadows in your interior spaces. This exclusive natural sufrace unites real edelweiss, marguerites, healing arnica, cornflowers, heather, roses and fragrant Alpine hay to a rich colourful experience. See, touch and smell the abundant flora of the Alps.
the translucent self-adhesive foil is part of the design
the biophilic design of the surfaces increases wellbeing and reduces stress
carefully placed edelweiss, marguerites, and real flower petals create a colourful experience – for an intentional interior design
material
EDELWEISS, MARGUERITES, COLOURFUL FLOWER PETALS AND FRAGRANT ALPINE HAY
Our Alpine hay comes directly from the regional mountain meadows of the Tyrol. This keeps the transport routes to a minimum – in in line with the true sustainability principles we stand for. Together with edelweiss from controlled cultivation and colourful flower petals of marguerites, roses, cornflowers, heather, lavender and sun flowers, our hay is sieved carefully and, largely manually, crafted into exquisite natural surfaces. The entire process is subject to strict quality controls.
the fragrance of fresh hay poititvely impacts the interior atmosphere and, together with real edelweiss and colouful flower petals, invokes positive emotions
helps in keeping the biodiversity of the inner alpine highland meadows alive
hay has a positive impact on our climate: 1 kg hay binds approx. 0.45 kg CO2
Self-adhesive translucent
Product Details
Characteristics
Raw Material
EDELWEISS, MARGUERITES, COLOURFUL FLOWER PETALS AND FRAGRANT ALPINE HAY
Technical details
Backing
Self-adhesive translucent
Format
Rolled goods, width: 1,360 mm
MOQ
1 m² (≙ ca. 0.74 running metre)
Translucency
Bending radii up to 0,5 mm
Processing
Installation of Organoid natural surfaces on self-adhesive foil:
Place on chosen surface (dry application)
Cut with scissors, a cutter or a plotter
Allow for imperfections 1-2 mm around the edges
Pre-trials recommended