10, Jul 2023
Wallpaper trends and pure nature?
How to bring the global trends to the wall.
Following interior design trends in a sustainable way? Is that even possible in our fast-paced society? We think it is. You want a modern wall design that feels trendy, but would still like it to look good it for a long time? We have some ideas on how you can combine current global trends, wallpaper trends, naturalness and durability.
Counteracting the throwaway mentality
Fast-moving fads that drive a throwaway society and create more waste than is necessary go against our philosophy. However, we all want interior design that feels contemporary – but we want it to feel up to date for a long time. That's why it is important to look at global trends that show the world's long-term developments.
In recent years, the topic of sustainability has become ubiquitous, unavoidable and indispensable. More and more, this development presents itself quite attractively: sustainability goes hand in hand with health. Natural materials and rapidly renewable resources not only protect the environment, but are also often better for us humans.
… and yet remaining at the cutting edge
With Organoid®, you bring this global development towards sustainability directly onto the wall. The natural materials remain untreated and are an environmentally friendly alternative thanks to our energy-efficient climate-neutral, regional production – and with their unique look, they make a clear statement for more nature inside. And nature never goes out of fashion.
So you're doing everything right with Organoid®. But our wallpapers are not only at the forefront of the big developments: you can also implement the latest trends in a unique way with the natural surfaces. Here, we present some of them and show you how natural surfaces are (and will remain) trendy.
---
Dopamine decorating
The term dopamine decorating is one of the latest online trends. But what is it exactly? Bright colours, cheerful designs and upbeat patterns are supposed to boost our mood. When we surround ourselves with fun things, we ourselves are more happy – at least that's what the proponents of the trend think. We think there's something to it. When we are in a colourful environment, we automatically feel a little bit better.
Therefore: why not bring a little colour into the living space? The cheerfully colourful surfaces MOUS HELLGRIAN, ROASNBLIATN and KORNBLUAMA BLAU, or our colourful flower meadows for the walls, such as ALMWIESN or BERGWIESN, brighten up the room – and give your mood a boost at the same time. It doesn't get any better than this.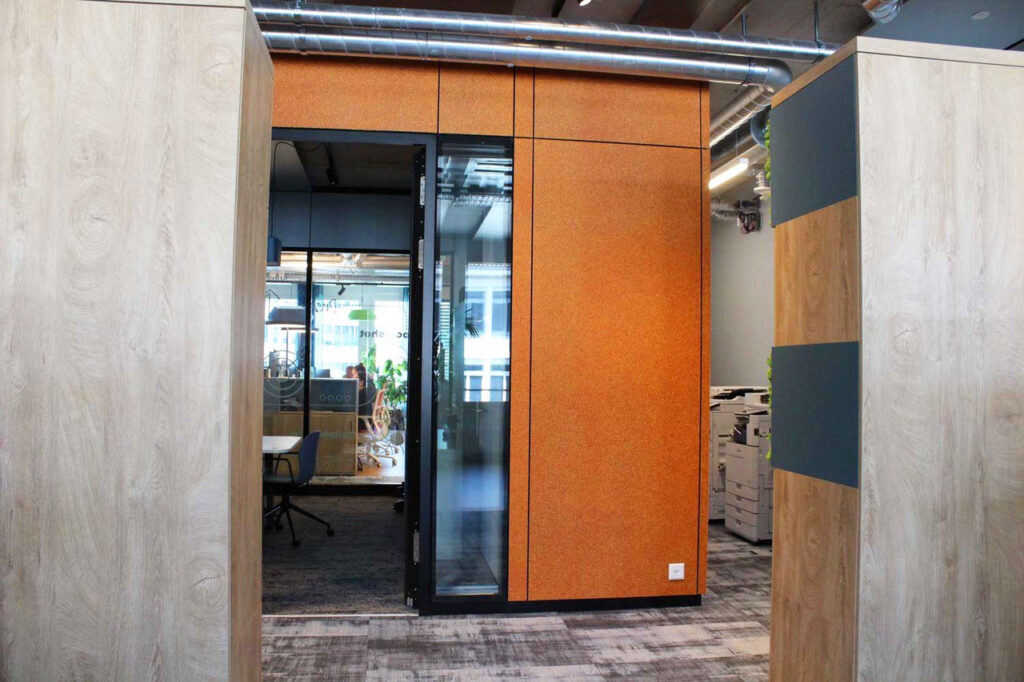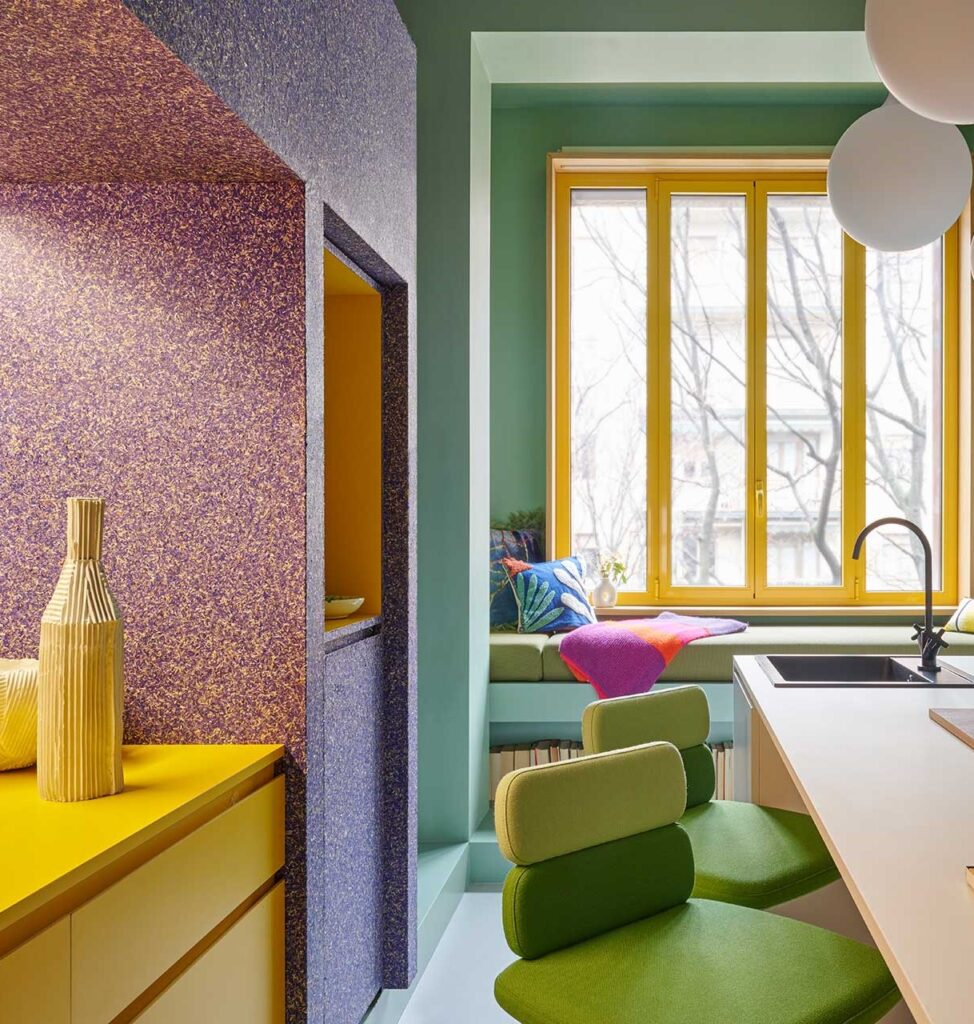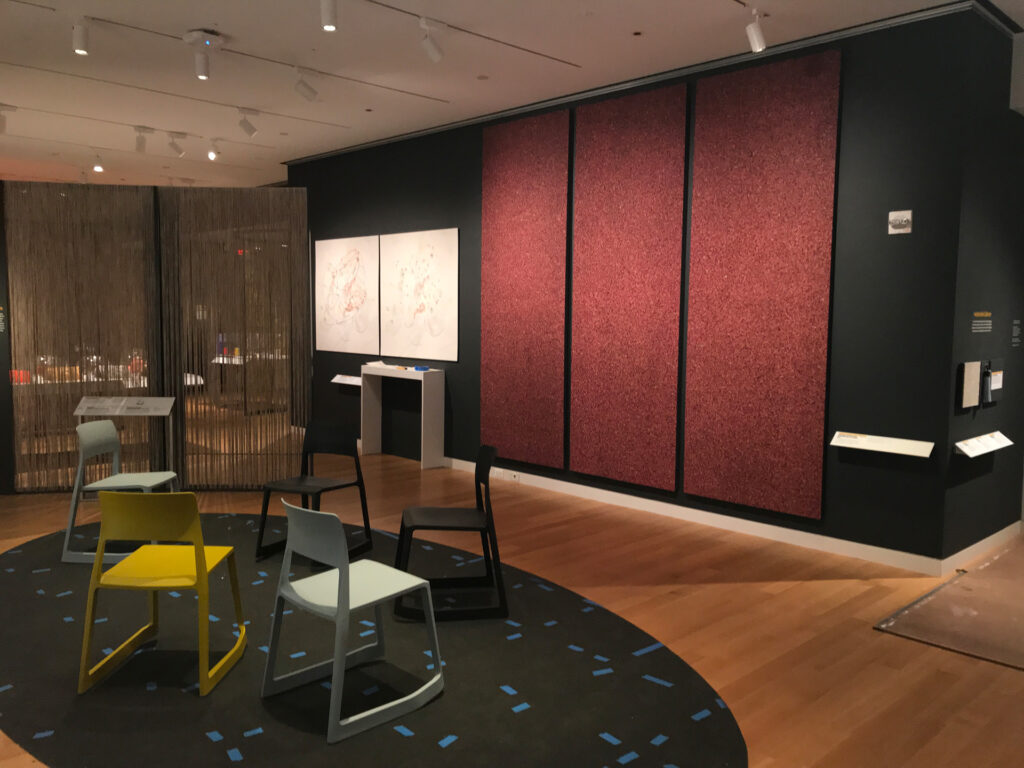 Wallpaper in unexpected places
Be it on the ceiling, as a back wall for bookshelves, all-over or in bathrooms: wallpaper can and should also be used differently from time to time. This creates exciting effects that add visual interest to the room. Use the natural wallpaper in a different way – and create unusual rooms with a trendy feel to them.
Psst: you can also easily apply our wallpapers to furniture – either by using a veneer press or with our strong self-adhesive film. In this way, you can create spaces with a real customised character by adding in pieces of furniture that match the wall.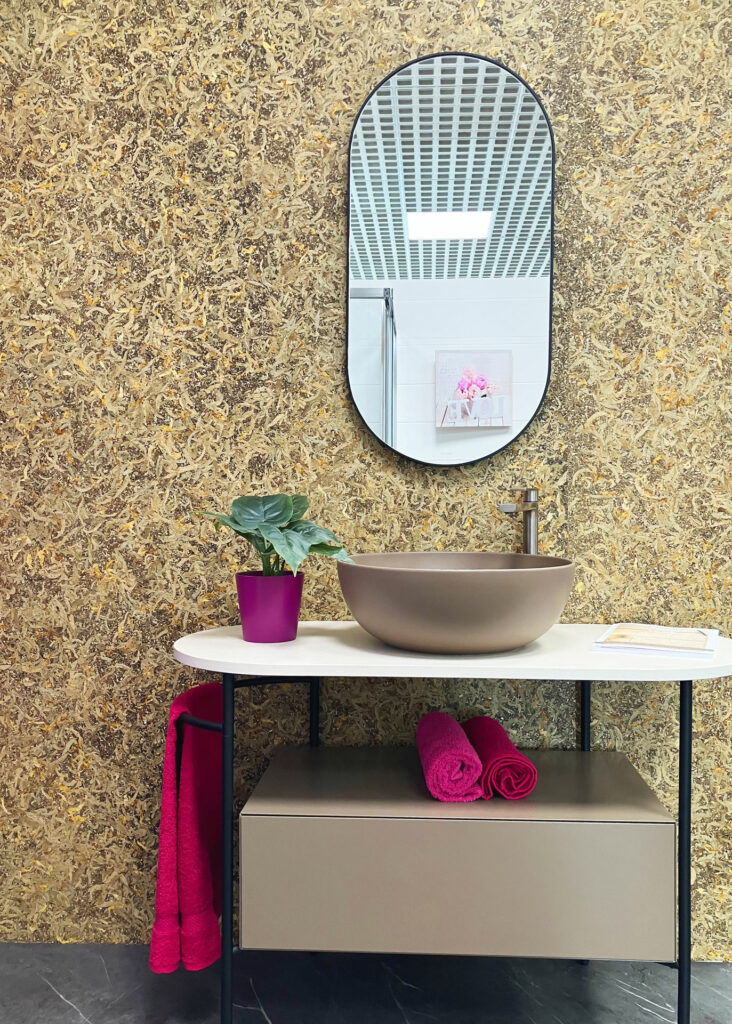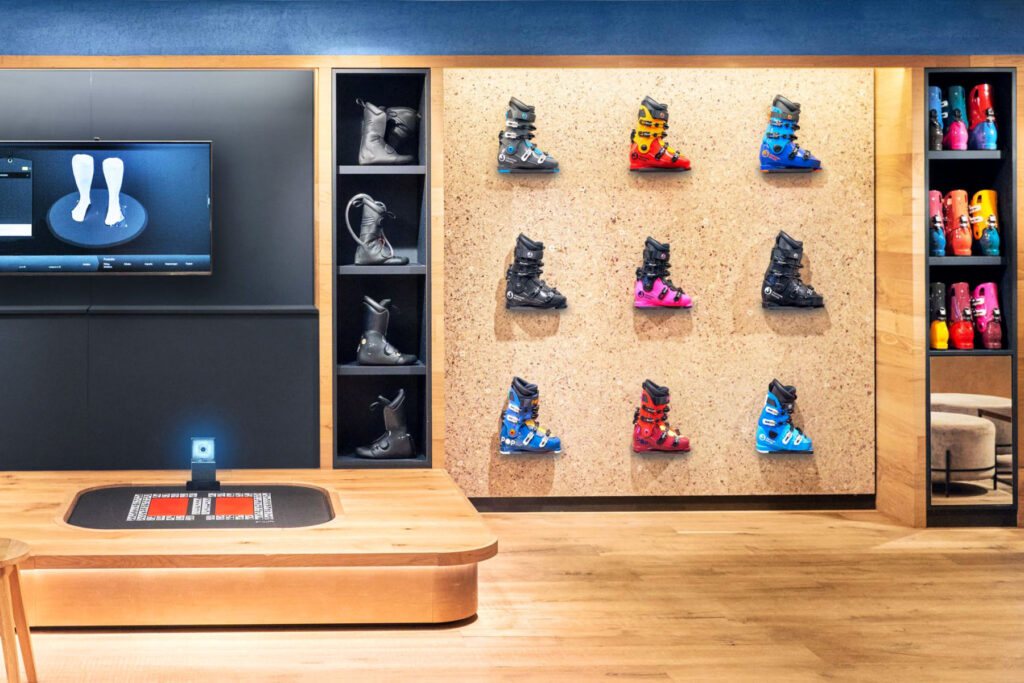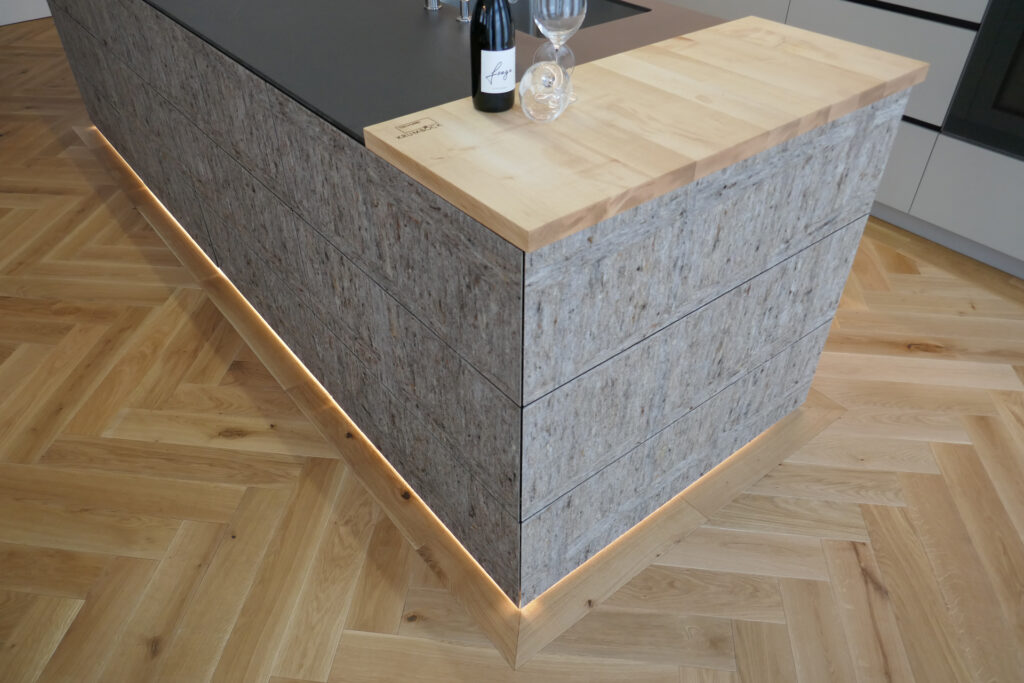 Floral Designs
Floral prints – or would you prefer the real deal? Floral patterns on the walls are all the rage. But how about putting real flowers on the wall instead of a print? We find the colourful flower meadows (made of the real thing) for the walls much more original. Take a look at ALMWIESN light –
it brings cheerfully colourful blossoms to the walls without any damaging effects on the environment. Tropical prints also remain en vogue, but real skeletonised leaves from the rubber tree transport us straight to the actual tropical forest.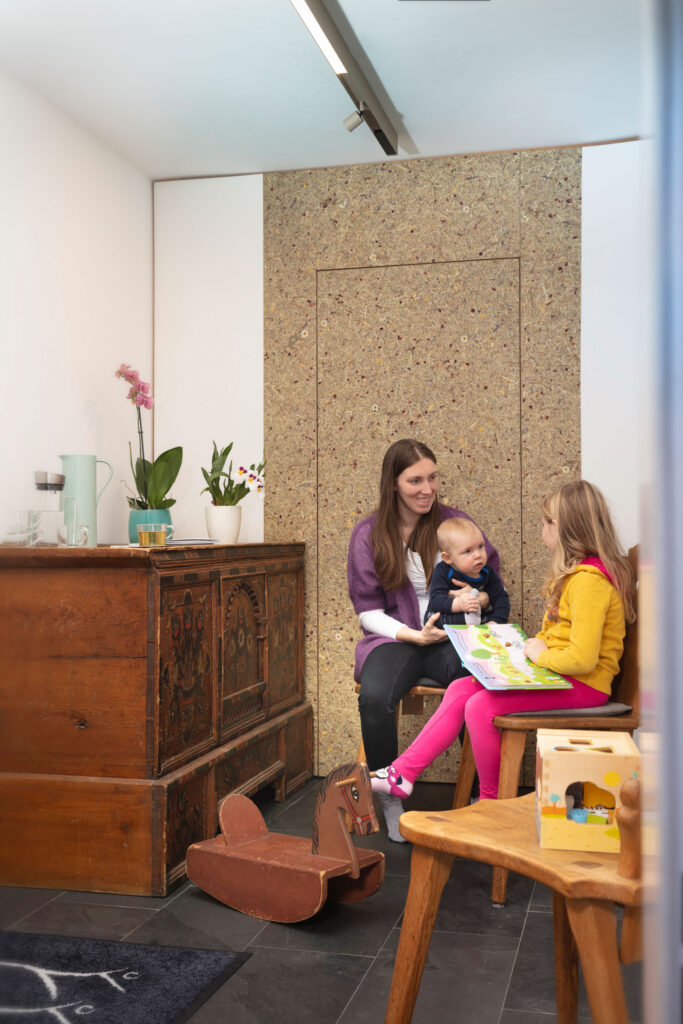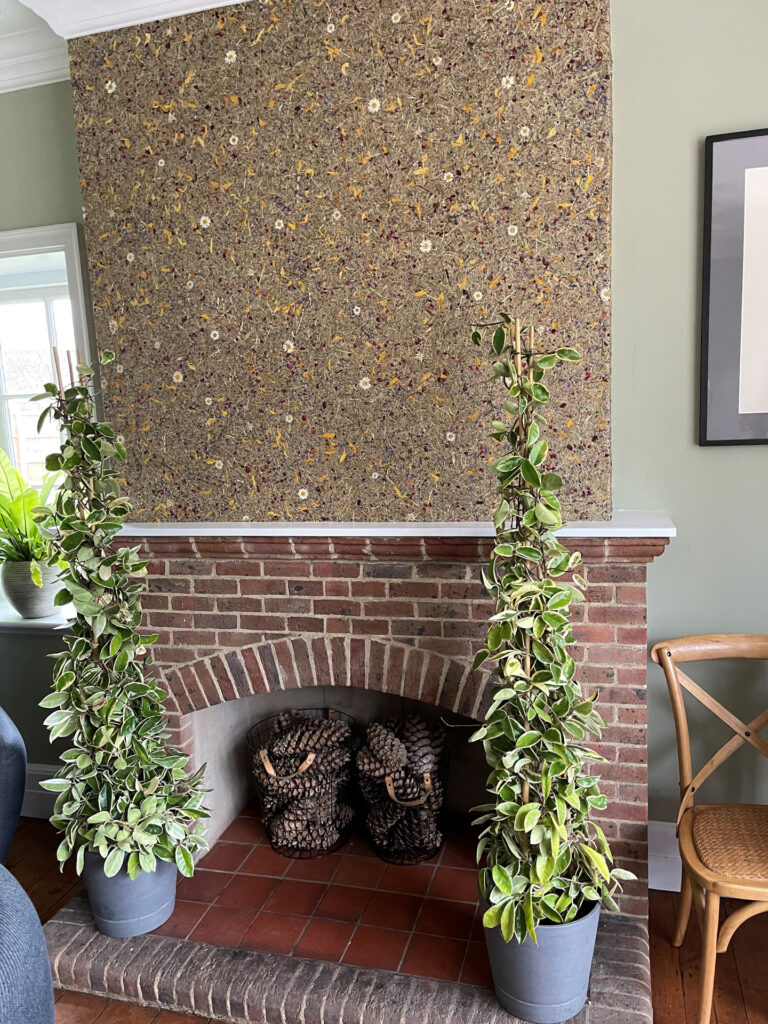 Adding texture
Textured wallpapers bring a special effect to the walls – depending on the angle of the light, the shadows change, which makes them look different in different lighting. Their unusual haptic and visual experience keeps us inspired.
The structure of natural materials creates visual interest on the wall. Take a look at the surfaces WILDSPITZE and LAWENDL medium – they will turn your walls into a haptic experience.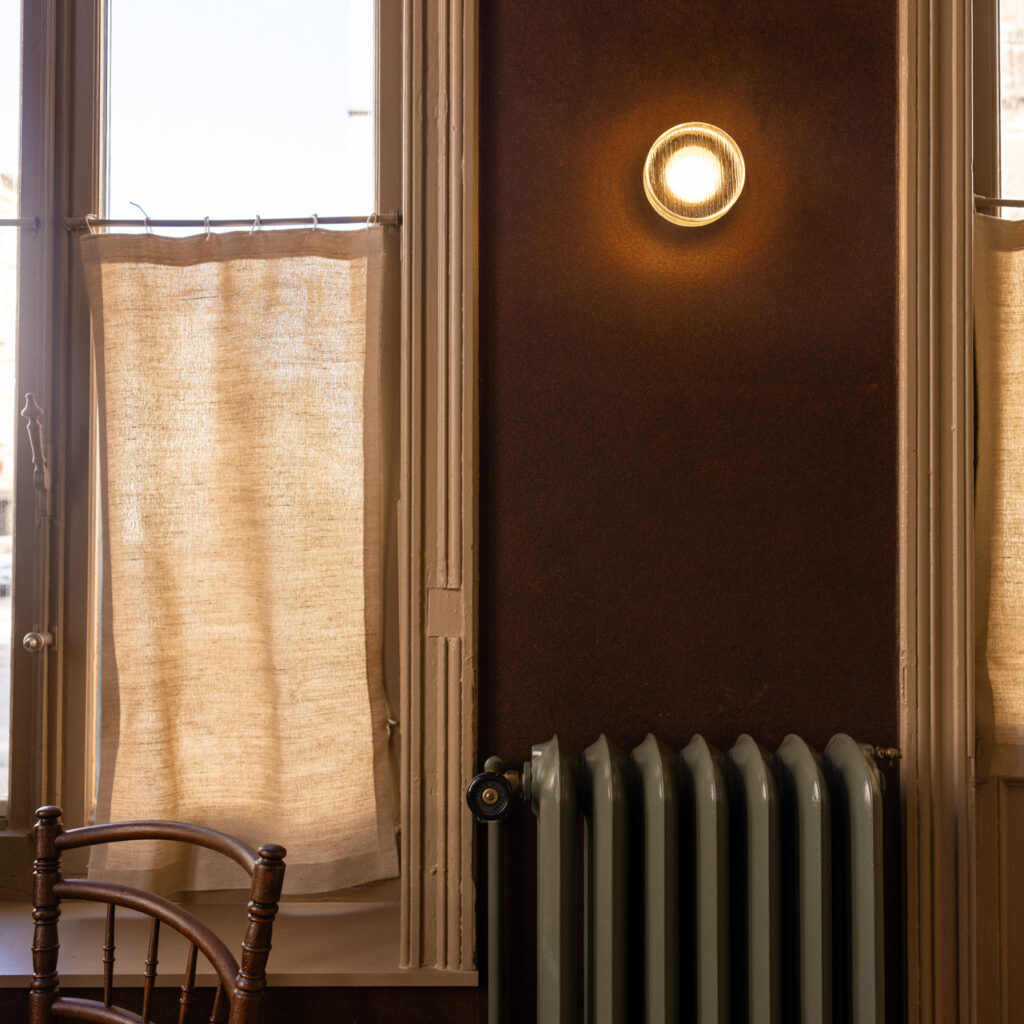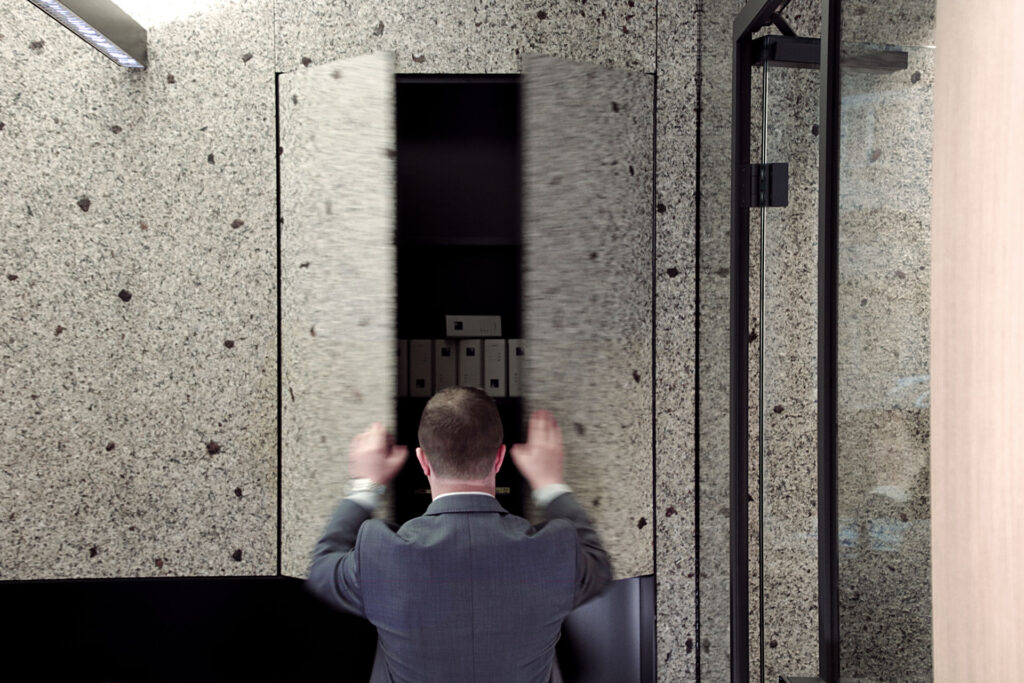 Whimsical and different
Unusual, storybook-like designs are in vogue. The wallpapers by Organoid® fit right in. Pressed blossoms remind us of childhood days when we used to create little works of art by pressing plants between old books.
Surfaces like BLIATNPRACHT or BERGWIESN add a touch of this magic to the wall. We think that you don't have to do without the magical things of your childhood just because you've grown up.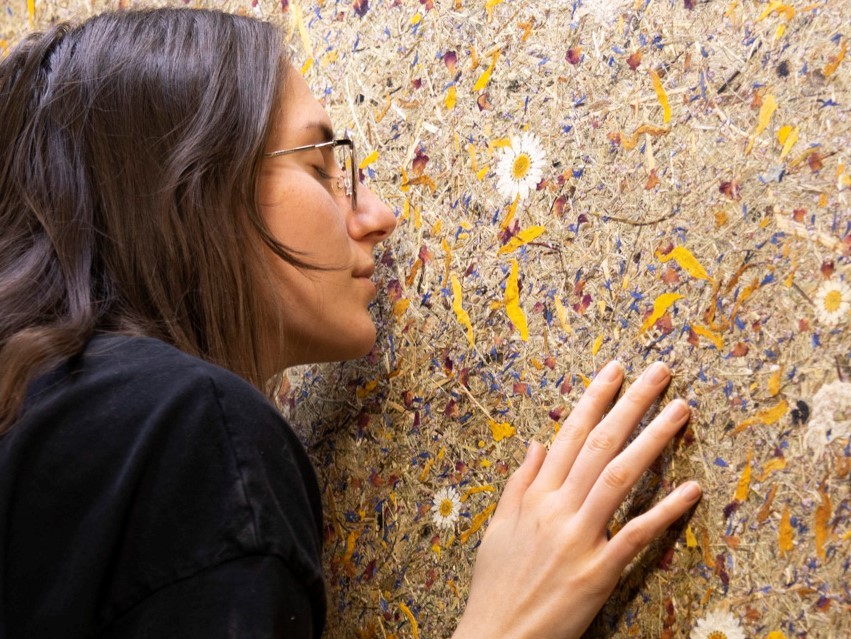 ---
Nature never goes out of fashion. This is why your interior design with Organoid will always feel contemporary. And sometimes trends also help us to come up with new ideas and design solutions that will stay with us for a long time – especially if we implement them in the way we like best.
Are you convinced? Or at least inspired? You can get to know the wallpapers better right away. Have samples sent to you or contact our team for a quick and easy consultation on your project.
Photo title picture by Oberflex