Hay chest
Hay chest
Project request
Höxter – Stahle/Germany
Location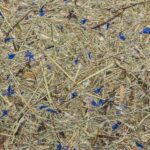 Holzverarbeitung
Application
Project:

Hay chest

Location:

Höxter – Stahle/Germany

Project Hay chest:

Holz Specht GmbH & Co KG

Organoid Natural Surface:
"Have a smell"
– Maybe you already know this invitation to experience our natural surfaces from our fair booths.
The horse with its fine nose doesn't hesitate and takes a smell on this lovely piece of furniture.
Because it can notice the gentle scent of hay and lavender…
Blue and nature – this are the colour effects of this piece of furniture made by Holz Specht aus Höxter-Stahle/Germany.
Our natural coating WILDSPITZE LAWENDL is applied on the front panels.